Premium Pest Control in Mesa, AZ
Trusted by thousands of families, communities, and businesses.
How can our Mesa, AZ wildlife removal experts serve you?
Hello clean, non-toxic pest control.
Goodbye harsh, dangerous chemicals.
Industry-leading guarantees
Arizona is home to more than 40 different species of scorpions. Our scorpion exterminators in Mesa, AZ use advanced product that offers a 100% scorpion-free guarantee.
Unlike most companies, we won't increase our prices on you. What you signed up for is what you pay. Period.
Our products come from organic sources. They are pet and eco friendly and have the highest industry standards.
Not satisfied with your service? Not a problem. We offer unlimited, free re-services until the problem is solved.
We protect your property from the 32 most common pests in Arizona.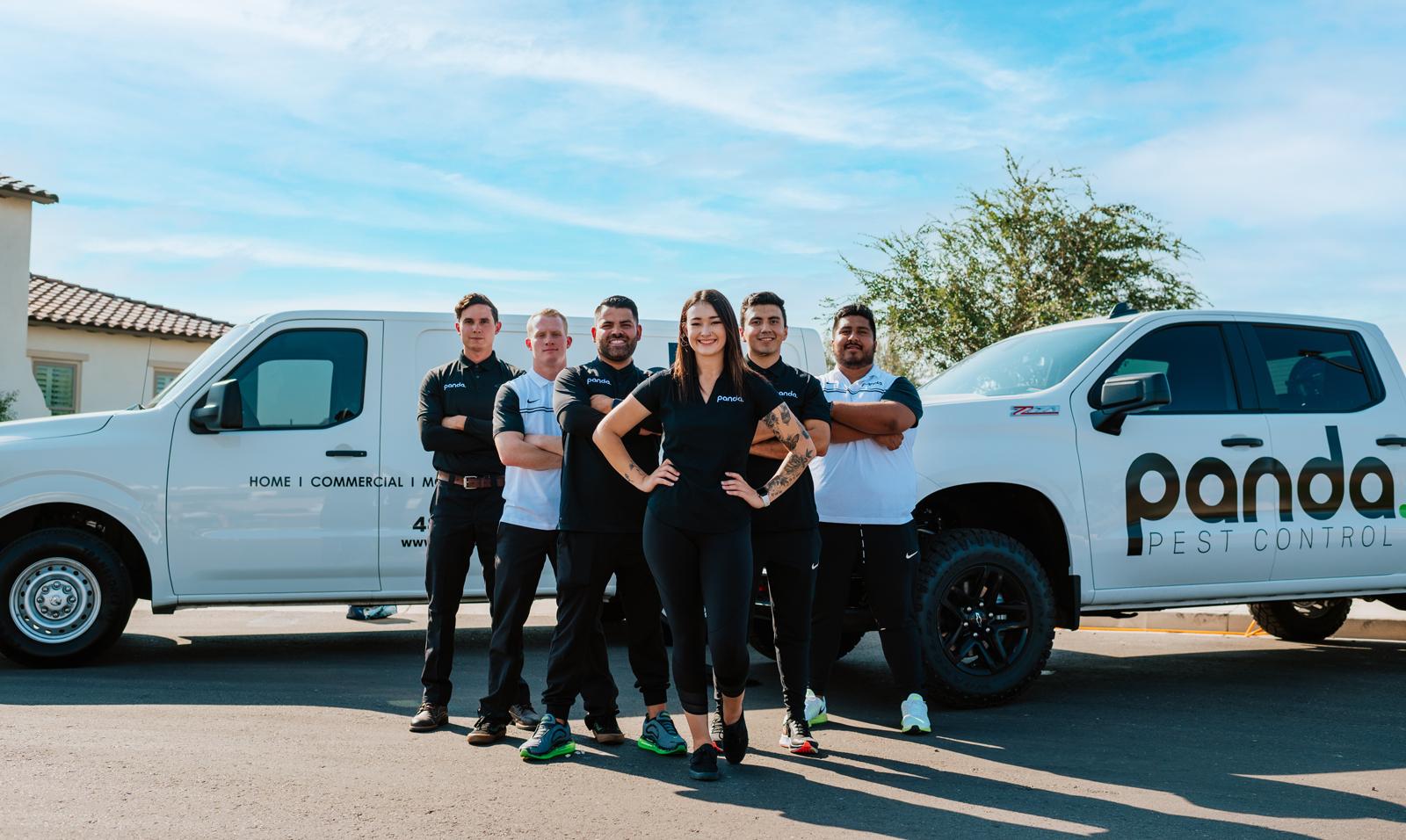 Mesa, Arizona's #1 Pest Control Service
With over 15 years experience in the Pest Control industry and tens of thousands of services performed, we're here to work around your lifestyle.
Learn about how our Mesa pest control team works with you, and how we lead the way with:
Cutting Edge Technology
Clinically Backed Eco Friendly Products
Incredible Response Time
Industry Experience
Learn More About Panda
Hello certified, pest-free guarantees.
Goodbye broken promises.
Feedback from the Community
Finally, a Pest Control service that is worth keeping long term. I'm the kind of person who will typically switch to whatever option the cheapest service possible but honestly these guys do such an incredible job that I prefer for someone like them to just handle it all for me. This is the type of company that I'm happy to recommend to anyone.

Cameron J.

5-Star Google Review
We have had two different pest control companies in the last 3 years in our home. We continued to see live scorpions on and off pretty much that whole time. Then we called Panda since they came highly recommended. The technician came to spray and between yesterday and today, we are already seeing a lot of dead scorpions all around the house. It's working! I think we found our forever pest control company.

Camila M.

5-Star Google Review
I came across Panda on Instagram! I no longer have spiderwebs all over my outdoor lights that I needed a ladder to reach and clean! My husband and I are very short so, it's a whole task for us. Also, the service specialist was very thorough with the eco friendly spray, outdoor and indoor. He even let me take a few photos of him for social media. All in all - the service was quick, friendly, and on time! We highly recommend to anyone.

Frankie & Paige

5-Star Google Review
I was a first time user of Panda Pest Control and they did a fantastic job with their overall services provided! They were timely and had great customer service! The technician did a fantastic job at hitting all the areas that were needed and finished in a timely manner! I recommend Panda Pest Control to anyone wanting quality pest control services.

Trevor K.

5-Star Google Review
Just started using Panda Pest Control and they are very professional and effective. We had a tough time finding a company that could stop the scorpions from coming inside our home, and we have finally found it! 100% recommend!

Guillermo P.

5-Star Google Review
Definitely my new go-to pest control company in the area! The people are open and upfront with you about all aspects of the job. The employee answered all my questions thoroughly, was a complete professional, and his attention to detail is what put his and Panda's above the rest.

Giovanna P.

5-Star Google Review
Definitely recommend these guys! They got me on their schedule super quickly and we're beyond helpful in their responses. Tanner came to our home and made sure to get every place we asked to ensure we don't have pests! We get irrigation at our home and mosquitoes are terrible this time of the year. Will definitely book them again!

Amandalyn W.

5-Star Google Review
Summer is coming! Receive 50% off of your first service
(480) 485-4124
3820 E Main St, Unit #5
Mesa, AZ 85205
Message us below for your free quote, complimentary inspection, and details about current specials in your area.
(480) 933-7176
3820 E Main St, Unit #5
Mesa, AZ 85205
Message us below for your free quote, complimentary inspection, and details about current specials in your area.
Hello Panda.
Goodbye Pests.